Domestic violence reports increase during Sussex 'tweetathon'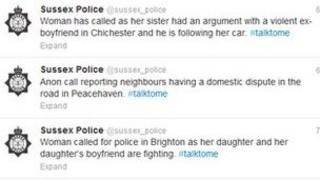 Reports of domestic violence rose by more than 50% during a police Twitter campaign to highlight the issue.
Sussex Police received 66 reports of domestic violence during a 24-hour "tweetathon" on Friday compared to 40 on an average day.
The force tweeted rough details of every domestic violence case reported.
A spokesman said it was too soon to tell if the rise in reported incidents was a direct result of the social media campaign.
The force also held two live web chats in which the public could ask questions and seek advice about domestic abuse.
Shouting in street
Calls tweeted included a woman who was bleeding from the nose after an assault in the street in Littlehampton and a report about a brother and sister assaulting each other in St Leonards.
A concerned member of the public reported man and woman shouting at each other in the street in Hastings and a call was received about a man refusing to leave woman's address in Bognor.
Tackling domestic abuse was a key pledge during the election campaign of Sussex Police and Crime Commissioner Katy Bourne.
She said: "We know that many victims suffer in silence and this is something we want to change.
"It is vital that victims feel confident in coming forward and we want to encourage them to seek help early on before the abuse escalates."
Members of West Sussex and Brighton domestic abuse charity Rise worked with police officers during the live web chats.
Sussex Police said it had recorded 12,232 domestic incidents since April 2012, and averaged 40 per day.