Eastbourne and Hastings hospitals to share services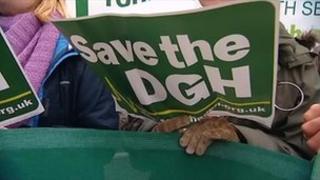 Plans to divide key services between two East Sussex hospitals have been approved.
At a meeting earlier, an independent health committee gave the go-ahead for stroke services to be centralised at Eastbourne District General.
Emergency general surgery and emergency orthopaedics will be based at the Conquest Hospital in Hastings.
Campaigners said they would fight against the decision. All the services are currently offered on both sites.
In June, 63 consultants wrote a letter saying they had "little or no confidence" in significant elements of the strategy.
'Time is critical'
Liz Walke, from Save the DGH campaign, said the length of time it took to travel between Hastings and Eastbourne was a crucial factor.
"We believe the services should be at both hospitals because time is of the essence and time is critical," she said.
However, Darren Grayson, from the East Sussex Healthcare NHS Trust, said the quality of care on offer at the hospital was the most critical factor.
He said: "The clinical evidence, presented by a number of senior clinicians, is that the most important thing is getting to a service that can provide the top quality care when you get there."