Beatles for sale: Assessing the value of band memorabilia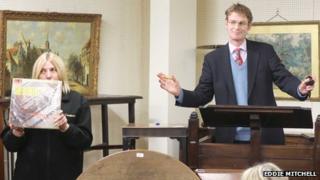 Brother and sister Chris Collins and Liz Chambers are considering a new strategy after their rare Beatles album failed to sell at a Sussex auction.
But they are about to discover that cashing in on the Fab Four's popularity and collectability is not easy.
Their signed copy of the band's first album, Please Please Me, went unsold at Campbells auction in Worthing after failing to reach its £15,000 reserve.
Now the children of the original owner are wondering whether to try again.
Mr Collins, from Hove, and Ms Chambers, from Worthing, were left the precious LP by their father, Arthur, who ran the Normandie hotel in London, where the Beatles and other pop stars often stayed during the 1960s.
The superstars brought the early black-and-gold-labelled version of the album back to the hotel, where the owner was playing cards with members of another of the decade's big groups, Freddie and the Dreamers.
Sock drawer
"All of the Beatles joined the card game and the record was placed in the middle of the table, where it was used as a coaster for whisky glasses," said Mr Collins.
All four Beatles, together with members of Freddie and the Dreamers, signed the record, some adding their own comments, and they gave it to his father.
When he died in 1979, the record was left to his children and spent most of its time in a sock drawer.
Mr Collins added: "I used to play it until about 10 years ago. Then when I found out it might be worth quite a lot, it became quite a burden.
"It had been sitting in a drawer with my socks, but once we were told about the value, I wouldn't play it anymore and didn't know where to keep it."
The siblings are now contemplating approaching another auction house, possibly in London or Liverpool - the Beatles' home city - to see whether the record fares any better.
But an expert warned that they have a daunting task to realise their target price.
Condition is paramount
Stephanie Connell, director of entertainments memorabilia at Bonhams in London, has sold a number of similar albums and says collectors are very choosy about the smallest of details.
She outlined what factors might influence the value:
Rarity Please Please Me was released in March 1963. The earliest pressings had black labels with gold lettering; later ones had yellow lettering. The so-called black and gold is more valuable - but stereo copies are rarer still because of the limited demand at that time. It could be the difference between a £50 and £5,000 record.
Signatures Despite their immense fame, Beatles signatures - particularly a set of all four - are relatively rare. However, ironically, autographs from their early years are much more common, and therefore less desirable to collectors. "Between 1967 and 1970 they were hardly ever together, so unless you were in their inner circle, there is no way you would get their signatures," says Ms Connell.
Style The value of the autographs can vary wildly, depending on their size, which way the letters slope, the type of ink used and any additional wording.
Condition The condition of the album is paramount. "People will want as near to mint as possible, so if it has been used to stand drinks on - even though there might be a good story behind that - I can't imagine people would prefer that to something that was pristine."
Provenance The story behind the sale often influences buyers, as well as helping verify the item. "But there is always some kind of provenance attached, so it is not really as important as people might think."
Location of sale Ms Connell is keen not to cast any aspersion on the auction house that ran the sale, complete with pre-sale publicity. But she said: "In my opinion specialist items are better sold in specialist sales, where you know there are going to be clients who buy that kind of memorabilia.
Campbells believes location made no difference. Spokeswoman Rachel Aked said: "I believe that with the powers of the internet, it doesn't matter.
"Before the sale, people were extremely enthusiastic. A lot of people came to see the album. We were extremely pleased to be asked to take the auction."
Mr Collins and his sister will now do some more research before deciding what to do, having been quoted £7,000 by a London auction house.
He said: "If it only makes £7,000 I would keep it. I would wait for one of the other Beatles to die."