Withyham art sale will keep church pretty as a picture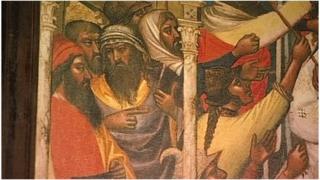 A Sussex church's £1m windfall from the sale of ancient paintings should ensure it can devote more time to parishioners, according to its priest.
The four medieval paintings donated to St Michael and All Angels Church in Withyham, near Ashurst, raised £950,000, which will fund its upkeep.
The Rev Adrian Leak said interest on the invested cash would be used for maintenance and repairs.
This should free up money for ministry in the parish.
The paintings, by Italian artist Niccolo di Pietro Gerini, were donated to St Michael's by Edward John Ottley more than 150 years ago.
"The pictures were given with the intention of embellishing and beautifying the church building," said Mr Leak.
"The nearest we can get to complying with this is to use the money to make sure that the church fabric is maintained."
Church officials were determined not to diminish the capital sum - which will be invested - but instead to use annual interest, estimated at £30,000-£40,000, to maintain the building and its churchyard.
Mr Leak said: "We are not alone. It is true of practically every parish up and down the land [that] church buildings are getting very expensive to keep going.
Mundane 'but necessary'
"We have just had the tower repointed, which cost about £50,000.
"In a few years' time the roof will need redoing, and I shudder to think what that will cost.
"Then there is the continuous outside maintenance, like repainting the guttering - all very mundane, but it has to be done."
The annual income will also be used outside the building, including for repairs to 70m of 18th-century boundary walls.
"This all has to be done to a very high specification because it is an ancient monument," added the priest.
As a result of the windfall, good causes within the parish stand to benefit.
Mr Leak explained: "If we didn't have the money, all these jobs would still need doing - we have a duty to keep the building there.
"If we didn't get the windfall, we would have limped along, using every penny we had to keep the building up, which would have been at the expense of any new projects in terms of ministry and administration.
"I'm not suggesting that because of the windfall, you are going to see a huge surge in parish mission in Withyham, but over the years, I or my successors will be able to say, 'what ought the church to be doing for the housebound, or parishioners living on their own, or for the youngsters'?"
As for the paintings, which had been held at Leeds Castle, in Kent, they are now in the hands of a private collector, but it is not clear whether they will be put back on public display.