Bluebell Railway memorial for founder Bernard Holden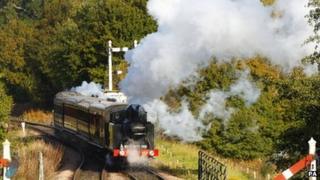 A memorial is to mark the work of the founder of the Bluebell Railway in Sussex, who died just months before its missing link was due to be completed.
Trustees of the railway's preservation society are considering a variety of ideas on how best to pay tribute to the immense contribution of Bernard Holden.
The inspiration behind the line, which runs from Sheffield Park to Kingscote, in East Sussex, died in October.
The final two-mile link to East Grinstead is due to open next March.
Mr Holden, who lived to the age of 104, was given an appropriate send-off when one of the railway's special trains took his coffin nine miles along the line from Sheffield Park, near Haywards Heath, to Kingscote.
But his fellow Bluebell enthusiasts lamented the fact that the society's president had not survived long enough to see the completion of the line.
Fitting tribute
As a tribute to the railway doyen, the society has decided not to appoint a successor until after the link opens in the spring, ensuring that in name at least, Mr Holden remains president when his dream is realised.
Society chairman Roy Watts said: "We are examining a number of possibilities for how to honour Bernard, but we are not going to rush into anything. It is what is fitting for him.
"We still want his name as president when we open the line at East Grinstead, but there is a lot of consultation going on as to what is the kind of thing that would best befit Bernard."
Among the ideas under consideration are a bronze bust, a commemorative plaque and even an obelisk at the Imberhorne cutting, which represents the final obstacle to a complete Bluebell Railway.
However, one idea that has been shunted into the sidings is the possibility of one of the society's engines being renamed after him.
Mr Watts said "it would not be appropriate" to name one of the engines after him because the Bluebell fleet have all preserved their original titles.
"I know Bernard himself would not want that to happen," he said.
On schedule
Mr Holden, a former manager with Southern and British Railways, chaired the society's first meeting after British Rail closed the Lewes-East Grinstead route in 1958.
Despite recent cold weather that has slowed down removal of the final stretch of spoil from the Imberhorne cutting, and the laying of track and cabling, Mr Watts is confident the stretch will be completed in time.
Comprehensive testing will then be carried out ahead of the official opening on 23 March next year - 55 years after the original line closed.
The stretch from Kingscote to East Grinstead is costing about £3.5m - all but £100,000 or so has been raised already.
Mr Watts estimates that the entire project will have cost £15m-£16m.