Horsham A24 road shut following 12 black ice crashes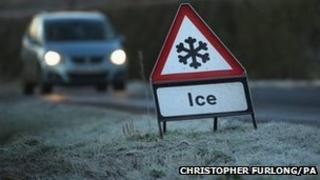 Police shut a three mile (5km) stretch of road in West Sussex after black ice caused at least a dozen vehicles to skid and crash.
A section of the A24 southbound carriageway was closed at Horsham for nearly four hours from 09.45 GMT.
Sussex Police said "treacherous black ice" between the Robin Hood and Hop Oast roundabouts had caused more than 12 vehicles to crash.
PC Glen McArthur said: "Miraculously no-one has been seriously injured."
He added: "The conditions on this stretch of road are pretty bad.
"Drivers need to slow down. If there is frost on your windscreen then be prepared for frost and ice on the roads."
The carriageway was reopened at about 13.45.
The freezing weather also disrupted services at Christ's Hospital railway station in Sussex, with trains between Barnham and Horsham delayed.
Wintry showers have been forecast later on Wednesday along the Sussex coast.