Plinth project sought for Hove seafront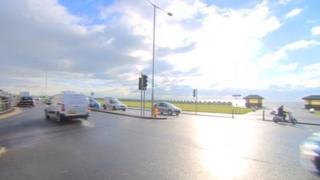 Art enthusiasts in Sussex are hoping to create a Fourth Plinth project in Hove similar to the one set up in London's Trafalgar Square three years ago.
The Hove Civic Society is seeking planning permission for a plinth on the seafront to showcase public sculptures.
Spokeswoman Karin Janzon said the aim was to make the public space "a focal point for inspiration" and to make people feel proud.
If approved, the plinth would cost up to £50,000 to construct.
The society said it would be funded from donations by both the public and local businesses.
"We want to connect with the traditional Victorian sculpture heritage but bring in a modern contemporary slant," Ms Janzon added.
The "Hove Plinth" would be used for temporary displays of sculptures, which would be sourced through loans from major sculpture foundations, collaboration with local arts and heritage organisations and specially-commissioned work, the society said.