Sussex church sells medieval Italian paintings for £1m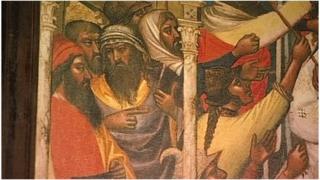 Four medieval paintings that were donated to an East Sussex church 160 years ago have fetched nearly £1m at auction in London.
The paintings by Italian artist Niccolo di Pietro Gerini, were sold to help pay for maintenance work at St Michael and All Angels Church in Withyham.
They were donated by Edward John Ottley in the 1840s and found to be valuable following cleaning in the 1990s.
Sotheby's said they sold for £950,000, excluding the buyer's premium.
The paintings are thought to be some of the earliest examples of work on canvas and are believed to form part of a large series of artworks depicting the Passion of Christ.
'Great pioneer'
The Rev Adrian Leak, of St Michael and All Angels Church, said Mr Ottley would "rejoice that once again Withyham church will benefit from his gift".
Ottley inherited the paintings from his uncle, renowned art collector William Young Ottley, who is believed to have acquired them in Italy in the late 18th Century.
Sotheby's states: "William Young Ottley first went to Italy aged 20 in 1791, and lived there - mainly between Florence and Rome - for almost a decade, collecting paintings, drawings and miniatures in the opportune conditions which prevailed in the wake of the invading French armies.
"The pictures he brought back to England in 1799 included works by Raphael, Parmigianino, Botticelli and Titian; works now central to the collection of the National Gallery, London, of which he wrote the first official guide in 1826.
"Ottley was probably the first Englishman with extensive knowledge of Italian painting before 1500 and he is regarded as one of the great pioneers in the appreciation and collecting of the Italian primitives."
Since 1997, the paintings have been held at Leeds Castle, in Kent, with full-size copies on display in the church.
The chancellor of the Diocese of Chichester, Mark Hill, gave permission for the artworks to be sold on the basis that they had no "integral part" to the history of the church and were unlikely to be put on display there again.
The auction was held on Wednesday.