Bluebell Railway extension nears completion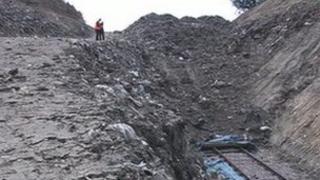 More money is required to finish an extension to a stretch of track on a heritage steam railway in Sussex which is 100m from completion.
The Bluebell Railway is being extended by two miles to allow trains to connect to the main railway line at East Grinstead.
Much of the work has entailed clearing thousands of tonnes of rubbish from the Imberhorne cutting.
The railway said it needed a further £200,000 to complete the extension.
The railway currently runs for nine miles from Sheffield Park to Kingscote.
The original line was closed 55 years ago and the Imberhorne cutting was used as a landfill site.
'Tantalisingly close'
Chris White, the railway's project controller and infrastructure director, said: "We are tantalisingly close now. We have about 100m of material to clear out of the cutting.
"Once that is cleared out, we can finish off the track and have our connection in place by around mid January."
The Bluebell Railway attracts around 170,000 visitors a year with a turnover of more than £3m, several full-time staff and 700 volunteers.