Printing 'money' to help Midhurst's economy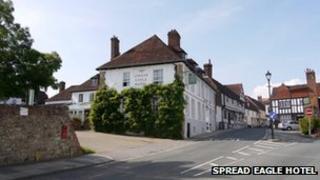 Traders in a West Sussex town have started printing "money" in an attempt to boost the economy.
About 30 businesses have signed up to give away "Midhurst Pounds" with all purchases during December,
Customers will be able to spend their "pounds" in the town as part-payment for purchases made during January in any of the participating shops.
Organisers hope shoppers from neighbouring towns and villages will be attracted by the scheme.
John Quilter, chairman of the Midhurst Town Team, said: "We are hoping that people from surrounding towns and villages will pop in and have a look and see that we have a lot of nice independent shops.
"This Midhurst Pound scheme is the first of a series of initiatives we have to boost the area."