World Aids Day remembrance events in Brighton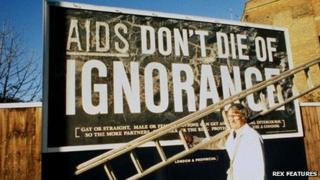 Events including a candlelit vigil and remembrance service have been taking place in Brighton to mark World Aids Day.
Organisations including the Terence Higgins Trust and the Sussex Beacon care unit have been working together on the day's events.
The vigil at New Steine Gardens included reading of names of those who have died of HIV/Aids in the area.
A service followed at Dorset Gardens Methodist Church.
Councillor Phelim Mac Cafferty, deputy leader of Brighton and Hove City Council, said: "Terrence Higgins lost his life to an Aids-related illness in St Thomas' Hospital, London, 30 years ago, one of the first deaths attributed to the condition in the UK.
"There is still considerable concern that in Brighton and Hove and throughout the UK diagnoses are increasing."
The Health Protection Agency said its figures suggested about 100,000 people in the UK were currently living with HIV, but about a quarter of them did not know they had the virus, which untreated can lead to the development of Aids.
The figures also showed that more than 6,000 people in the UK were diagnosed with HIV last year.
Among men, the figure of more than 3,000 diagnoses is at an all-time high.