Moulsecoomb pub's community co-operative offers shares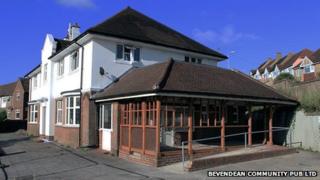 Residents in Brighton are hoping to create the city's first community pub by selling shares.
The Bevendean Hotel in Moulsecoomb, known locally as the Bevy, was closed down in May 2010 and residents now want to raise £200,000 to reopen it.
The newly formed co-operative is selling shares at £10 each.
Warren Carter said: "We're going to be a beacon for something that can happen in other areas that have lost their community pubs."
The group said it hoped to offer jobs and training opportunities for local people.
"The Bevy will be a community hub, a dedicated meeting room for local societies, a village hall with a difference in an area that is in desperate need of somewhere for people to meet," a spokesman said.
The share in the Bevendean Community Pub Ltd will be governed by the Financial Services Act, the group said.