Ford Open Prison riot: Breath test 'triggered' prison riot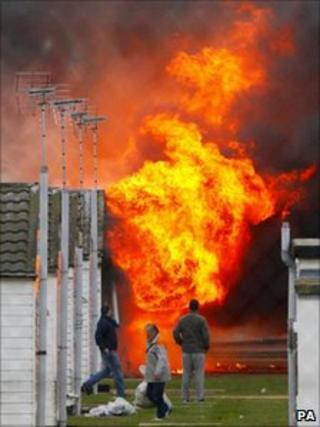 A prison riot was partly triggered by a decision to breathalyse inmates on New Year's Eve, according to a Ministry of Justice report.
The riot at Ford Open Prison saw masked inmates torch and smash buildings as staff lost control of the jail for more than 12 hours on 1 January 2011.
The report, seen by the BBC, said there was a poor relationship between staff and prisoners.
The Ministry of Justice said the problems had since been addressed.
The damage to the jail cost £5m to repair and five prisoners were jailed for offences including prison mutiny and violent disorder.
According to the report, alcohol was rife at the open prison and bosses failed to properly plan for New Year's Eve.
Tensions rose in the run-up to the riot and breath tests sparked the violence.
'Very rare'
The trouble resulted in the five staff on duty at the time being overpowered and retreating to the gate house, leaving the prisoners unsupervised.
Riot police were called in to help bring peace to the jail before authorities eventually regained control.
A spokeswoman for the Ministry of Justice said: "The issues raised by the report around alcohol in the prison and poor relationships between staff and prisoners have been addressed by the management team at HMP Ford.
"The prison has also tightened security procedures.
"The conclusion that the incident could have been brought to an end sooner has resulted in appropriate action being taken, both at HMP Ford and nationally across the prison estate, to improve the timing of interventions.
"These types of incidents in open prisons are very rare and it is to the credit of all the staff involved that no staff or prisoners sustained significant injuries during the incident."