Shoreham to Paris scheduled flight service launched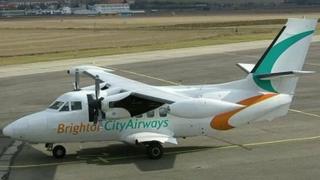 A new airline is to start twice-daily cross-Channel scheduled flights to Paris from a West Sussex airport.
Brighton City Airways (BAC) plans to fly from Shoreham Airport to Paris Pontoise Airport, near the French capital, from 6 March 2013.
Its owners claim passengers will reach the city centre two hours after they arrive at Shoreham.
BAC co-founder Jonathan Candelon, said: "It's a dream. We believe that it's going to work."
Currently passengers in the South East who want to catch a scheduled flight to Paris have to travel to Heathrow Airport.
'Fantastic schedule'
Mr Candelon added: "The market is there, the demand is there. It's all about controlling the cost, offering people something different, something that is convenient and something with a transparent pricing policy."
The Let-410 commuter aircraft the airline will use carries a maximum of 19 passengers, but does not have a toilet.
Shoreham Airport has been re-branded Brighton Shoreham Airport to coincide with the launch of the flights.
East Worthing and Shoreham Conservative MP Tim Loughton said: "Shoreham Airport has a lot to offer as a base for short hop trips to the continent with a large market of travellers on its doorstep who otherwise have to spend more time travelling to and through the London airports than in the air."
Simon Calder, travel editor of the Independent, said: "For business travellers in Sussex this is a fantastic schedule.
"Two departures a day enabling you to get to Paris to do a day's work there and enabling you to get home at a reasonable hour. Absolutely tremendous, I hope it will succeed.
"However the evidence isn't brilliant after all there isn't even a link to Paris from Gatwick which is Britain's second airport. I hope it succeeds but I wouldn't put my pension on it."