Increased profits for Gatwick Airport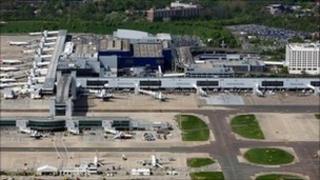 Gatwick Airport has announced increased half-yearly profits of £172m and a growth in passenger numbers.
Profits increased by 4.8% over the same April to September period in 2011.
Gatwick was sold in 2009 after the Competition Commission ruled BAA must also sell Stansted and either Glasgow or Edinburgh airports.
Stewart Wingate, Gatwick's chief executive, said: "Three years of competition has seen Gatwick grow its European short-haul business."
He added that the airport was also opening up new long-haul routes to Russian, China, Vietnam and Korea.
'Exploring second runway'
During the same six-month period, turnover was up by 3.6% to £325.8m and passenger numbers also increased by 1.2% to 19.9 million.
Mr Wingate said: "This proves passengers are best served by allowing airports to compete.
"It is why we recently announced our plans to explore second runway options as we believe growth at Gatwick is the best option for increasing connectivity for the next generation"
A legal agreement currently prevents a second runway being built at the West Sussex airport until 2019.
In June, Gatwick announced plans to handle up to 40 million passengers a year by 2021, increasing to 45 million annually by 2030.
Mr Wingate said: "Over the next three years we will continue to transform the airport, maximising the opportunities in the short-haul market while stepping up our efforts to attract airlines that serve markets of strategic importance to the UK."
Gatwick said about 23,000 people were employed at the airport, with a further 13,000 jobs in related businesses in the South East.