Brighton and Hove 2% council tax rise plan announced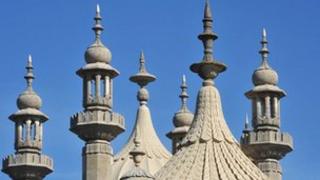 Council tax in Brighton and Hove could be increased by 2% and 150 jobs shed to help tackle a £20m funding shortfall.
In its draft budget for 2013-14, the Green Party-led authority said the increase would add 43p per week to the tax of a band D property.
The party said it was needed to meet a shortfall caused by government reductions in funding and increased demand for some services.
Opposition Conservative councillors have called for a freeze.
Leader of Brighton and Hove City Council, Jason Kitcat, said: "We believe that the council tax increase is a way to protect the essential services that people really value.
"We deliver over 800 services in this city and people need them for their quality of life, to live a healthy ordinary good life.
"We feel we have the commitment. 43p a week for the average household, which is what this increase would mean, is a fair contribution to keeping those services going."
The council hopes most of the job losses would be made through voluntary redundancies.
'Services more expensive'
It said it forecast savings of nearly £10m for 2012-13, above its target of £6.9 million, and £8.4m for 2013-14. The city council has an overall budget of about £770m.
Conservative councillor Geoffrey Theobald said the tax should be frozen and the council should have accepted a government grant to cover the shortfall.
He added: "Our services are still more expensive, some of them, than other authorities.
"We'd be looking at that, we'd be looking at working with other councils, we'd be looking at the voluntary sector and the private sector - testing the market to see whether those services could be dealt with more efficiently in that way.
"So we'd be looking at the management of the council."
Labour group leader Gill Mitchell said councillors were "dismayed to see that the Green council is targeting children and adult care services for the bulk of their cuts".
"Labour will be fighting to protect these essential services and will not accept scarce resources being diverted to Green Party pet projects such as a 90k public behaviour change project," she said.
The government has offered money to local authorities who promised to freeze council tax.