Brighton university recreates designer's rubbish house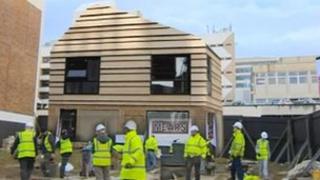 Rubbish is being used to build a house in the grounds of the University of Brighton.
Constructed largely from waste, it contains video tapes, toothbrushes and even Christmas decorations.
The Brighton Waste House is being built by students, schoolchildren and builders and apprentices involved in green work.
Once completed, it will become the university's HQ for sustainable design and will be available for exhibitions.
Energy-efficient
The waste house is based on a project by television presenter Kevin McCloud, who built the original in six days in 2008.
His collaborator was Duncan Baker-Brown, a lecturer in architecture at the university.
Mr Baker-Brown and his team now hope to demonstrate how low-carbon homes can be quick and cheap to build but can become viable buildings.
Mr Baker-Brown said: "The building will literally lock in waste rather than having it burnt, buried into landfill sites or dumped in the ocean.
"This is good news for all industries that make things because the cost of raw material and the price of throwing things away is sky-rocketing.
"Businesses can't afford to keep throwing stuff away and those who start reusing waste will be more likely to survive in the ever-tougher commercial marketplace."
He hopes the house will become one of the first A* energy-efficient rated buildings in the UK.
Insulating jeans
Discarded building matter will form a big part of the project - the university claims that the construction industry discards 20% of its materials.
And some items have to be supplied from new - including solar panels and high-performance doors.
But the team promises to be true to its principles, and even items of clothing, such as jeans, are being tested for their insulating properties.
Mr McCloud said such projects would help provide information on the most effective alternative materials builders can use.
"We in the construction industry are all being given government targets for energy performance and environmental sustainability, but we have very little in the way of understanding what are the materials and what are the technologies we should be using," he said.