Mike Weatherley 'rock attack': Man arrested over affray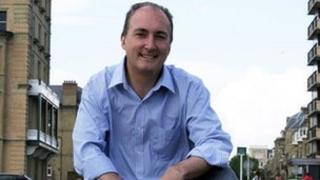 A man has been arrested following a squatting protest in which a Conservative MP said he had "rocks and missiles" thrown at him.
Mike Weatherley, MP for Hove and Portslade, was led to safety by police during the protest at the University of Sussex in Falmer, near Brighton.
The MP had been due to address students during the campus visit on 14 November.
Sussex Police said a 24-year-old man from Brighton, arrested on suspicion of affray, was later released on bail.
'Violent disruption'
The force said officers took the MP "to safety" during a disturbance and a member of his team was reported to have suffered a slight injury during the incident.
A spokeswoman for Sussex Police said the man was arrested on Friday afternoon.
"Just before 1.50pm on Wednesday 14 November, police were called to the Silverstone Building in Arts Road on the University of Sussex campus at Falmer, after a report of a disturbance," she said.
"A large group of people were outside the building where Mr Weatherley was present. Officers took Mr Weatherley to safety in a police van."
Following the incident, Sussex university issued a statement which said the MP had been invited on to campus by the university's Conservative Society to debate the new law that made it a criminal offence to squat in residential properties.
It said it believed the violent disruption was led by by activist protesters from outside of the university and not its students.
The Squatters' Network of Brighton (And Hove Actually) said on its website that about 50 to 100 students, squatters and their supporters had decided they were not going to let the MP speak because of his stance on squatting.
Squatting in a residential building in England and Wales became a criminal offence on 1 September. Under the new law, squatters face a maximum penalty of six months in jail, a £5,000 fine, or both.