Sussex PCC Katy Bourne promises 'a safer place'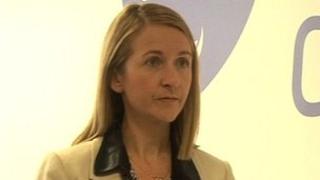 The new Sussex police and crime commissioner (PCC) has been sworn in, promising the county "will be a safer place to be".
Conservative Katy Bourne was elected as the first Sussex PCC in Thursday's election, ahead of Labour's Godfrey Daniel.
Ms Bourne said: "The politics of the campaign are behind us now, and it's important to get on with the job."
She said tackling anti-social behaviour would be top of her priority list.
Ms Bourne also promised there would be an increase in the number of special constables.
"It's another way of using resources more effectively, but also it's a way of increasing frontline policing and bringing more diversity into the community," she said.
In the election Ms Bourne polled 59,635 first preference votes, which was 31% of the total, compared to Mr Daniel's 40,765 votes.
She was awarded 20,393 second preference votes compared to her rival's 14,837.
This gave her a total of 80,028 votes over Mr Daniel's 55,602.
"In the end, in three-and-a-half years' time, Sussex will be a safer place to be," Ms Bourne said.