Hastings beach bulldozers help Sussex fishing fleet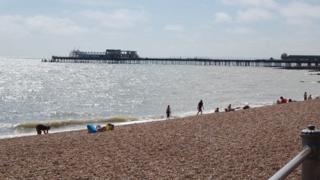 Fishermen in Sussex have welcomed the arrival of three new bulldozers to help level a shingle beach in Hastings which had become dangerous.
Strong winds had moved the shingle creating ledges, which could have a 15-20ft (4.5-6m) drop.
This hampered the work of the beach's 25-boat fishing fleet, with concerns raised over the possible loss of life.
The bulldozers, which replaced worn out ones from the 1950s, were paid for by the European Fisheries Fund.