Brighton sand sculpture theme park approved by council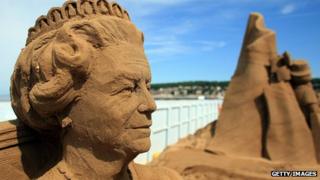 A plan to create a sand sculpture theme park on disused land near Brighton beach has been given the go-ahead.
Brighton and Hove City Council has approved the temporary use of the former Black Rock swimming pool site.
The park would open from April to October and be similar to the one run by the same organisers in Weston-super-Mare.
Brighton Sand Sculpture Festival believes 100,000 visitors could come to the Sussex version.
A permanent use for the site is still being sought.
Geoffrey Bowden, who is the chairman of the council's economic development and culture committee, said: "We're confident this attraction would increase the numbers of people going to the eastern part of the seafront and that other businesses there will benefit as a result."
The Black Rock site has remained vacant since the old swimming pool was demolished in the 1970s.
In July, the council rejected modified plans for a scaled-down arena on the site and agreed to look for new development ideas.