Burnt-out Hastings Pier gets lottery funding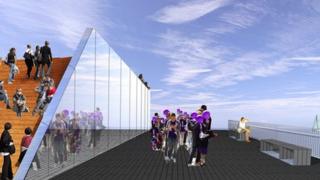 A grant of £11.4m in lottery funding has been awarded to a trust to buy and restore an East Sussex pier which was severely damaged by fire.
Hastings Pier was almost destroyed in a fire which started on 5 October 2010.
The Hastings Pier and White Rock Trust (HPWRT) plans to build a new visitor centre on the 140-year-old structure.
The money from the Heritage Lottery Fund will allow the trust to buy the pier after a compulsory purchase order was issued to its owners.
Hastings Borough Council leader Jeremy Birch said: "This is excellent news for Hastings Pier and White Rock Trust, all supporters and residents of and visitors to Hastings.
"The council's compulsory purchase order has been approved so we are now in a position to hand the pier over.
"We remain committed to working with HPWRT to raise the matched funding required to complete the first stage of works."
Up to 95% of the structure, which was closed to the public in 2006, was damaged in the fire which took four days to put out.
Two men, aged 18 and 19, were arrested but the Crown Prosecution Service said there was not enough evidence to bring charges.
Following the fire, Panama-based owner Ravenclaw failed to respond to approaches by the council.
A repairs notice was served on Ravenclaw in November 2011, giving the company two months to respond.
In September, the government announced that the compulsory purchase order of Hastings Pier from its Panamanian owners could go ahead.
Victorian engineering
HPWRT said the pier's sub-structure would need to be rebuilt and the deck relaid.
The trust is aiming to restore the structure incorporating the new visitor centre.
In May, artists impressions of the restored pier were released by HPWRT.
Simon Opie, chief executive of the trust, said: "The overall approach is to protect the heritage and respect the design and the engineering of the sub-structure - the remarkable Victorian engineering - and then to put on top of the pier some elements which reflect the future of the pier and the value that it can deliver for the 21st Century."
The one building that survived the fire, the Western Pavilion, will become a restaurant and bar.
Jo Brand, comedian, writer and actress, said: "Hastings Pier was where I spent a great deal of time as a teenager and it was the gathering point for a whole generation looking to see bands and dance the night away.
"I can't wait to see the new pier rise out of the ashes in the next couple of years."