Funeral of speaking clock voice Brian Cobby in Brighton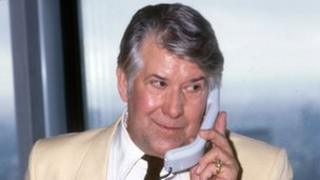 The funeral of Brian Cobby, who was the voice of the speaking clock for 22 years, has taken place in Brighton.
Mr Cobby, of Hove, East Sussex, died at the age of 83 on 31 October following a series of health problems.
He was the voice of the speaking clock from 1985 until 2007 when Sara Mendes da Costa, also of Hove, took over the role.
A recording of his voice was being played to mourners at a memorial service at Woodvale Crematorium.
A number of doves were also being released to commemorate Mr Cobby, who reportedly used to receive fan mail from people who used the service late at night just to hear his calm voice.
British Telecom began the speaking clock service in 1936.
It gets its time from the atomic clocks at the National Physical Laboratory (NPL), the UK's official time-keeper.