Eastbourne and Hastings hospitals could share services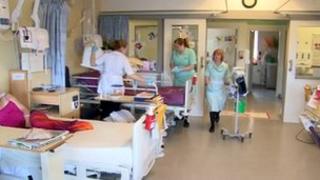 Emergency orthopaedics, surgery and stroke services will be divided between two East Sussex hospitals under proposals put forward by health bosses.
East Sussex Health Care NHS Trust wants to centralise stroke services at Eastbourne District General Hospital.
Orthopaedics and surgery would move to Hastings' Conquest Hospital.
The services are currently offered at both hospitals and the trust said the move would improve services. Protesters say they will fight the plans.
A group of 63 consultants at Eastbourne have criticised the proposals.
Both hospitals also have their own accident and emergency departments.
'Both towns lose'
A series of public meetings were held during a 14-week consultation during the summer. The trust board met to discuss the final proposals on Thursday.
Liz Walke chair of Eastbourne campaign group Save the DGH, said both towns would lose if the changes went ahead.
"These are services that are needed in a hurry and they should be provided at both hospitals," she said.
"The consultation hasn't listened to the public and hasn't listened to the clinical experts.
"There is no doubt there will be a domino effect and other services will follow. Now can A&E stay if the trauma unit goes from a hospital?"
Lib Dem MP for Eastbourne, Stephen Lloyd, said Save the DGH had worked closely with campaigners in the Hands Off The Conquest group to try to keep core services at both hospitals.
"I am happy that stroke services are coming to Eastbourne but I would have preferred that stroke services were retained on both sites," he said,
"We will fight it every inch of the way."
After Thursday's meeting the trust's medical director, Dr Andy Slater, said the changes would affect less than 1% of people who used the two hospitals.
Fewer than 15 patients per day would need to travel further for treatment.
"As doctors we are committed to improving the healthcare available for our communities," he said.
"We already provide good care but there are significant challenges to sustaining this in the future in the face of the national financial environment and changes in best practice.
"We want Eastbourne DGH and Conquest Hospital to remain thriving hospitals. This recommendation is not a threat to that ambition but a means of achieving it.
"We will be able to raise the standard of care in three specialist areas."
If the changes are approved by the board of NHS Sussex on 23 November, they are expected to be in place by the end of 2013.