Mike Weatherley 'attacked with rocks' at Sussex campus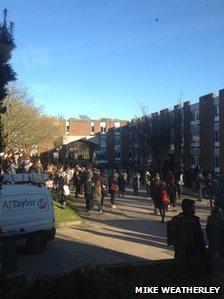 An MP had to be escorted to safety by police during a protest at the University of Sussex in which he claims he was "attacked with rocks and missiles".
Mike Weatherley, Conservative member for Hove and Portslade, said objects were thrown at him by "50 pro-squatting protesters" in Falmer, near Brighton.
He had been due to address students at the campus.
Sussex Police said officers took him "to safety" during a disturbance.
A spokeswoman for the force said: "We are investigating reports that a stone may have been thrown at Mr Weatherley's party and may have caused a slight injury to one of his team."
She said police were called to the Silverstone Room in Arts Road at the university just before 13:50 GMT after a report of a disturbance.
"A group of people were surrounding the room where Mike Weatherley MP was present. Officers took Mr Weatherley to safety in a police van," she added.
The MP said he had been ambushed by about 50 "violent thugs".
He said he had to seek refuge in a room as shouting protesters gathered outside.
Security officials barricaded him and his staff in the room until the police arrived, he added.
He said: "It's absolutely outrageous that a peaceful event such as this should be hijacked by a group of violent thugs.
"As soon as I walked into the lecture theatre someone attempted to punch me.
"The event was immediately abandoned, but as we tried to leave, rocks were hurled, and two female members of my staff were injured."
He said one member of his staff had her arm crushed in a door and another had a rock thrown at her neck.
The MP said he had made a statement to Sussex Police and to Sussex University security about the most violent members of the mob.
He said: "Once the trouble started, both police and security did their jobs incredibly well. I am grateful to them."
Sussex university issued a statement which said the MP had been invited on to campus by the university's Conservative Society to debate the new law that made it a criminal offence to squat in residential properties.
It said: "We believe that the violent disruption was led by activist protesters from outside of the university, not by our students."
The university said it maintained a policy of freedom of speech on campus that was fundamental to the nature of academic institutions and previous protests had been conducted in a peaceful way. It added it was helping police called in over the incident.
A statement posted on the Squatters' Network of Brighton (And Hove Actually) website said about 50 to 100 students, squatters and their supporters had decided they were not going to let the MP speak.
It said: "He'd barely walked on to campus before he was mobbed by a chanting crowd.
"His security and aides struggled to protect him as he fled, chased by a mob throwing eggs, tomatoes and other things."
Referring to the new law, it also said: "Weatherley repeatedly shunned debate with any squatters before he criminalised us."
Squatting in a residential building in England and Wales became a criminal offence on 1 September. Under the new law, squatters face a maximum penalty of six months in jail, a £5,000 fine, or both.
Ministers said it would offer better protection for homeowners and end squatting, but campaigners warned the new law could criminalise vulnerable people and lead to an increase in rough sleeping.
Related Internet Links
The BBC is not responsible for the content of external sites.