Michael Gove accuses Sussex council of 'academy fail'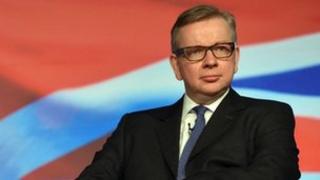 The education secretary has described East Sussex County Council as a barrier to the progress of the government's academy programme.
In a letter sent to all East Sussex MPs, Michael Gove asked them to persuade the council to "take a more constructive position".
He criticised the council for "failing actively to pursue sponsored academy solutions".
East Sussex County Council chiefs described the letter as "baffling".
The letter from Mr Gove said academies had successfully taken over failing schools across the country and there was "a wealth of evidence" that the academy model was working.
Council 'now failing'
But he said: "Unfortunately, this transformative drive has not taken root in East Sussex, where too many schools continue to underperform. This is particularly the case for primary schools."
And he added: "One of the main barriers to progress has been the position of the council.
"It has in the past worked well with officials to find sponsored academy solutions for four underperforming primary schools, but is now failing actively to pursue sponsored academy solutions for others."
Ending the letter, he said he believed discussions would be more productive if MPs were able to persuade the council to take "a more constructive position".
Matt Dunkley, director of children's services for the county council, said he found the letter "baffling" particularly because he had met Mr Gove on Thursday and the MP had made no mention of this.
He said: "It is completely inaccurate for the government to describe us as a barrier to progress, or indeed to suggest that we are resistant to schools becoming academies."
Lewes Liberal Democrat MP Norman Baker said he had received the letter but said he felt it should be up to local people to make decisions about how their children should be educated.
'No sponsors'
Mr Dunkley said the council was the co-sponsor of three academies in East Sussex.
He also said the council and the Department for Education (DfE) brokered sponsors for four primary academies last year.
He said: "We have been in dialogue with the government about a number of underperforming primary schools in recent months.
"When we discussed academy options for those schools, the DfE said it did not have appropriate available sponsors at present for all the schools concerned.
"So we discussed instead alternative improvement plans for each of those schools.
"It was only in the past week that the government told us they would prefer us to pursue academy status as an option for these schools."