Sussex PCC: Candidates split over bobbies on beat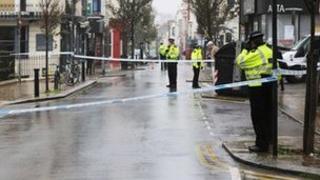 More street patrols are not necessarily the answer to Sussex's crime problems, according to some of the county's candidates for police commissioner.
"Bobbies on the beat" have proved popular among members of the public.
But the five candidates for the role in Sussex were divided about how best to satisfy demand during a BBC debate.
While some pledged to find ways of freeing up officers to spend more time on the streets, others argued that some crimes required a different approach.
Independent candidate Ian Chisnall told BBC Sussex that focus on specific issues might sometimes be better than "just wandering around - which can look a bit aimless if we are not careful".
He said: "I'm not sure it is achievable and I'm not sure it is the answer. But I understand why people want to be reassured, and we need to reassure them."
'Officers on patrol'
Lib Dem David Rogers said police had to balance the effectiveness of "visibility" against other priorities.
He said he backed community support officers, but added: "We need to remember that not all crime can be solved in that way."
Katy Bourne, the Conservative candidate, pledged to keep officers on patrol rather than behind desks by building on the force's pilot schemes to make better use of modern technology.
"Rather than having police officers back in the station writing up reports, we want them on the streets, where the public say they need them."
And UKIP candidate Tony Armstrong said he wanted to cut out the "middle tier" to free up more officers for key roles.
"We need to redeploy [some of those] officers downwards, into neighbourhood policing teams, so that we can increase the number of officers who are actually patrolling in a specific area... and perhaps a few more into the other extreme where we've got officers patrolling in fast cars and who are a tactical reserve."
Godfrey Daniel, the Labour candidate, said the key was to "cut crime, not police".
He said: "There are going to be less bobbies if [members of the Coalition government] have their way, and if they do what they want with the council tax, there will be even less again."
'Less transparent'
The candidates also clashed over the politics of the new posts, which take effect throughout England and Wales on 22 November - a week after the elections.
Independent Mr Chisnall argued that commissioners would need to represent the whole community and should seek feedback not just from their own party colleagues.
But Mrs Bourne said the role was patently political, making "big decisions on spending and taxing" and working with government ministers and local councillors.
Mr Daniel said independent candidacy was "less transparent". "We don't know who the backers are," he said. "Where does an independent come from, or even worse, where does he go?"
Mr Armstrong said he would have stood as an independent if UKIP had not decided to field candidates. But he said the party had given him no direct financial help, apart from producing his manifesto.
Mr Rogers said many members of the existing police authorities, which currently oversee police forces, were already members of political parties on local councils.
BBC Sussex's debate on Danny Pike's show can be listened to again via the BBC iPlayer.