Ash dieback disease could 'devastate' Sussex landscape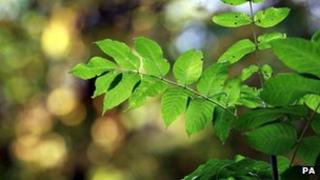 A disease affecting ash trees has been discovered in Sussex, with experts saying it could have a major effect on the county's landscape.
Ash dieback disease has now been confirmed as being found at an undisclosed site in the county.
The disease has now been found at 115 sites after 92% of England and all of Wales and Scotland had been surveyed.
Dr Tony Whitbread, from the Sussex Wildlife Trust, said the county's landscape could be "devastated".
He said: "We don't know exactly how much it is going to affect the area but it could make the place look devastated in the short term and we could be seeing lots of dead trees.
"That would have a huge effect on the landscape, a huge effect on wildlife and a huge economic effect."
'Nature does heal'
Dieback, caused by the Chalara fraxinea fungus, was first recorded in eastern Europe in 1992 and spread over two decades to infect most of the continent.
The first confirmed case in the UK was recorded at a nursery in Buckinghamshire in March 2012.
A ban on ash imports and the movement of trees from areas with confirmed cases of dieback came into force on 29 October.
The majority of confirmed cases have been recorded at nurseries or sites where young ash trees had been recently planted.
"Tree diseases do happen, they are a natural process," Dr Whitbread said.
"Nature does heal itself. One thing we need to bear in mind is not to over react and make the cure worse than the actual disease itself."