MP wants Sussex diocese included in child abuse inquiry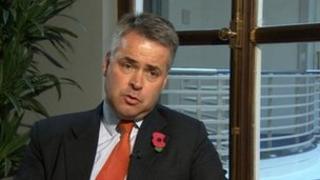 The government has been urged by the MP for East Worthing and Shoreham to include the Anglican Church in Sussex in its inquiry into child sex abuse.
Former children's minister Tim Loughton spoke out after the home secretary's statement on historical allegations of child abuse in north Wales.
The MP said an inquiry should look at all institutions linked to child abuse.
Three retired priests and a church organist have been charged with sexual offences against children in Sussex.
On Tuesday, Theresa May said people in positions of responsibility would not "shirk" from their duty to support victims.
"We must do everything in our power to do everything we can to help you, and everything we can to get to the bottom of these terrible allegations," she told MPs.
However, the Home Office told BBC South East it had nothing further to add to the statement made by the home secretary.
'Safeguarding failures'
Victims sexually abused by priests in Sussex started campaigning for a public inquiry in April.
Two bishops are facing disciplinary action for alleged safeguarding failings including the Bishop of Lewes, the Right Reverend Wallace Benn, who announced his retirement last month.
The Archbishop of Canterbury is also investigating child protection mistakes.
Mr Loughton said: "The Catholic Church has obviously been embroiled in child abuse scandals for a long time.
"The Church of England is certainly no stranger to it, and of course earlier this year we were particularly implicated in the Diocese of Chichester with a number of priests going back many years who have all been accused, or charged, or imprisoned for child abuse.
"So I think we need to make sure we have an inquiry whose tentacles cover all the different institutions involved with children."
The Bishop of Chichester, Dr Martin Warner, said he would welcome the opportunity to be part of a public inquiry.
He added: "There are lessons that we have been learning over the past few years and we would welcome a chance to share our learning.
"We have forged strong relationships with statutory authorities and organisations that support victims of abuse. We recognise this is an ongoing process."
Child protection campaigner Lucy Duckworth has also backed the call by Mr Loughton.
"The Diocese of Chichester has had four inquiries into child abuse in the last four years.
"We now need a public inquiry that is completely independent from the church that will get to the very bottom of the consistent safeguarding failures," she said.