Dutch astronaut Wubbo Ockels rescued by Sussex lifeboat crew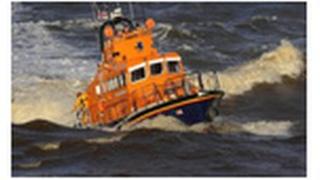 The first Dutchman in space has been rescued from his stricken eco-friendly yacht by Newhaven lifeboat crew.
Wubbo Ockels, a former European Space Agency astronaut, and seven crew members were stranded on board Ecolution seven miles off the coast.
The vessel, heading for the Caribbean, had lost its sails and engine power.
The RNLI crew had to contend with choppy seas and strong winds during the three-and-a-half-hour operation to tow the 80-tonne vessel into harbour.
No-one was hurt and the crew is understood to have spent the night on board in Newhaven harbour before arranging repairs.
Contaminated fuel
Paul Legendre, the Newhaven coxswain who led the operation, said his crew of seven volunteers had launched the lifeboat within five minutes of the alarm being raised, but it took half an hour to attach a tow line.
"The sails had been blown out, so they had no sails, and the fuel was contaminated with water, so they had no engines," he said.
"But it was still travelling at about four knots because it is so big and was being blown by the wind. So we had to travel alongside it at the same speed to attach the line."
Mr Legendre added: "There was no immediate danger to any of the crew, but it was one of the bigger jobs we have had to do, size-wise."
Ecolution, a 26m twin-masted schooner, is owned by Dr Ockels, a physicist and astronaut who became the first Dutch civilian in space, flying on the Challenger space shuttle on a Spacelab mission.
The schooner is designed to generate its own energy, enabling people to remain on board for long periods without having to put in to harbour.