Lewes bonfire celebrations: Scores treated by medics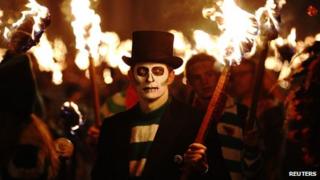 More than 80 people needed treatment by ambulance crews at Monday's Lewes bonfire celebrations in East Sussex, with seven being sent to hospital.
Eight people were arrested on suspicion of throwing fireworks, including a 32-year-old man suspected of aiming one at a police inspector.
A woman who was hit in the face with a firework was treated at the scene.
About 30,000 people attended the processions. No injuries were reported as being serious, Sussex Police said.
This year's event saw half the attendance figure of the 2011 celebrations, which took place over a weekend.
'Significant drop'
Revellers were advised to wear eye protectors after five people suffered serious eye injuries last year.
Sussex Police posted on Twitter that a 20-year-old woman had been hit in the face with a firework in Westgate Street.
She was treated at a first aid station and did not require hospital treatment, police said.
Supt Laurence Taylor said: "Fortunately we saw a significant drop in the number of firework-related injuries compared with last year."
South East Coast Ambulance Service (SECAmb) and St John Ambulance treated 82 people at the event.
A spokeswoman for SECAmb said a number of people suffered trip and slip injuries, with seven people being taken to the Royal Sussex County Hospital for treatment, and a few others were injured by fireworks.
After the 2011 celebrations, eight patients attended the Sussex Eye Hospital
'War zone'
Two were blinded and three now have the risk of life-long glaucoma.
In a letter to the British Medical Journal in October, eye doctors warned that bird-scaring explosives were being modified and used as fireworks.
Edward Pringle, retinal fellow at Sussex Eye Hospital, said: "Doctors normally see these types of injuries in a war zone."
Before the six bonfire societies' celebrations, Lewes Borough Council had warned those attending to wear eye and ear defenders.