Henry Allingham sculpture on show at Towner Gallery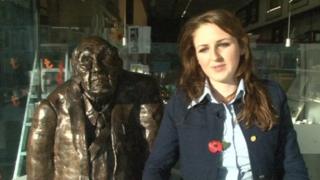 A bronze sculpture of one of Britain's last World War I veterans has gone on display at a gallery in East Sussex.
The bust of Henry Allingham, who was the world's oldest man when he died in July 2009 aged 113, has been unveiled at the Towner Gallery in Eastbourne.
He lived in Eastbourne for 40 years before moving to St Dunstans care home in Ovingdean for his final years.
The artwork is on display in the window of the gallery, where it will remain until Remembrance Sunday.
Local artist Jenna Gearing, 18, who immortalised the veteran in bronze, said she had found the face very challenging.
"I wanted him to look quite frail and innocent, and at the age of 113 he should be.
"I did want it to look very life-like, but at the same time exaggerate certain features," she said.
Military honours
Mr Allingham, who was born on 6 June 1896, joined the Royal Navy Air Service in September 1915 before transferring to the RAF in April 1918.
He became Britain's oldest ever man in March 2009 when he reached 112 years and 296 days, surpassing Welshman John Evans who died in 1990.
Hundreds lined the streets of Brighton to watch his funeral on 30 July 2009 where guests included the Duchess of Gloucester and senior figures from the Royal Navy and the Air Force.
Mr Allingham was buried with full military honours.