Beachy Head lighthouse's red and white stripes saved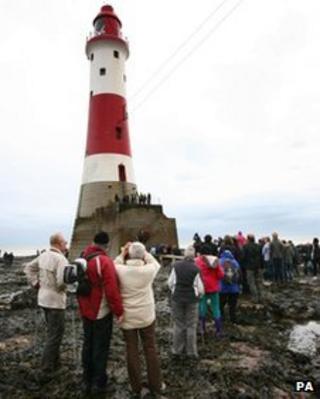 Campaigners have raised all the money needed to repaint the red and white stripes on Beachy Head lighthouse.
A donation of £500 on Friday took the Save Our Stripes fund over the £27,000 needed to repaint the East Sussex lighthouse to stop it going grey.
Owner Trinity House said last year the structure would be allowed to return to its natural granite because the cost of repainting could not be justified.
However, it said the work could go ahead if campaigners met the cost.
"We have saved the stripes," said organiser Shirley Moth.
"It is a lovely feeling, but we are very tired."
Donations to the fund, begun in September last year, included £2,000 from comedian Eddie Izzard, who grew up in Bexhill, and £1,000 from the Duke of Devonshire.
Eastbourne Borough Council contributed £10,000 and a paint company donated materials.
There were also many small contributions from street collections and fundraising events.
In May, 233 people took advantage of a low spring tide to join a fundraising walk around the landmark at the foot of the white chalk cliffs.
Ms Moth said: "I think to everyone in the area and, actually, all over the world it's just one of those sights you associate with the Sussex coastline - a red and white lighthouse against those beautiful white cliffs."
Traditionally the lighthouse was repainted every 10 years but Trinity House said the stripes were no longer needed because ships now navigate by satellite.
But the light is still set to guide passing mariners at night, providing a range of eight nautical miles across the English Channel.
Campaigners are liaising with Trinity House to organise the painting, which will take four weeks. It is expected to take place next spring.