Lewes bonfire celebrations 'unsuitable for children'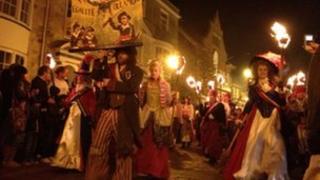 Visitors attending the Lewes bonfire celebrations are being warned that the events are not suitable for children.
Six bonfire societies are holding their celebrations in the East Sussex town later, with processions taking place through the streets.
The borough council said road closures will affect large parts of Lewes and visitors should use public transport.
After the 2011 celebrations five people suffered serious eye injuries when bangers were thrown into the crowd.
Lewes Bonfire Council said that the town would be very crowded and children may find the event "confusing and frightening", with children in pushchairs vulnerable to injury in the crowded streets.
Lewes Borough Council said: "The event is a Lewes tradition going back many years and allows the residents of the town to celebrate the ancient tradition of bonfire.
"People with young families are advised to attend an organised firework display close to where they live."
On-street parking will be suspended in the centre of Lewes from 14:00 GMT, with vehicles at risk of being towed away, the council said.
It also advised residents to get vehicles home by 17:00 GMT to avoid any road closures and has published details of restrictions on its website.
'War zone injuries'
Eight patients attended the Sussex Eye Hospital on the evening of 5 November 2011 after taking part in the Lewes bonfire event attended by more than 60,000 people.
Two were blinded and three now have the risk of life-long glaucoma.
In a letter to the British Medical Journal in October, eye doctors warned that bird-scaring explosives were being modified and used as fireworks.
Edward Pringle, retinal fellow at Sussex Eye Hospital, said: "Doctors normally see these types of injuries in a war zone.
"We were seeing them in a small market town - those throwing them and the people turning up to public events don't realise how dangerous they can be."
Roger Meyer from Lewes Bonfire Council, said: "It was a really serious problem last year.
"Measures have been taken and we don't think the problem will re-occur."