Owners of East Sussex log cabin could face legal action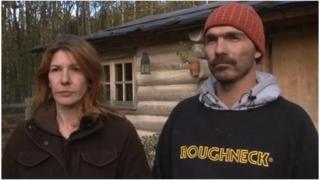 A couple from East Sussex who built their log cabin home without planning permission could face legal action from the council.
Sally Burton and Rick Wickwar, from Groombridge, created their eco-friendly home in an area of forest they bought five years ago.
Two attempts to get retrospective planning permission have failed.
Wealden District Council said the dwelling harms an Area of Outstanding Natural Beauty.
Ms Burton said that area of forest had previously been neglected.
She said the house is now self-sustaining and she earns a living by making charcoal on the site.
'Hurting the forest'
"The council believe I shouldn't be here because I'm hurting the Ashdown Forest and the surrounding areas by living my eco-sustainable lifestyle," she said.
Mr Wickwar said the couple did not ask for planning permission before building, as his partner's charcoal business would need to have been operating for three years before permission would have been granted.
"The only way for Sally to do that was to move in on the land and start a business up... so we were in a catch-22 situation," he said.
A spokeswoman for Wealden District Council said a dwelling on the site would harm the character and appearance of the High Weald Area of Outstanding Natural Beauty.
She added the council would pursue further steps to protect the area, including possible legal action.