Crawley Town footballer Hope Akpan sent racist tweet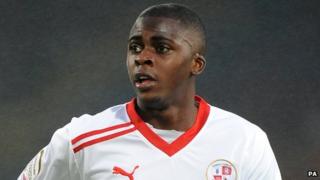 A racist tweet sent to a Crawley Town footballer is being investigated by Sussex police.
Hope Akpan forwarded the message containing the highly offensive racist term to his followers on Twitter
Sussex Police is working with the Greater Manchester force to identify the apparent sender @Woodywafc, thought to be from the Wigan area.
Crawley Town FC said it had received a complaint after Saturday's match against Oldham.
The club said it had informed the the Kick It Out campaign and the Professional Footballers' Association.
A spokesman for the club said: "Crawley Town FC has a zero-tolerance policy towards racism of any kind and will do all it can to assist the authorities in dealing with instances of racism affecting our players or staff members."
'Swift action'
A spokesman for anti-racist campaign Kick It Out said: "Abuse like this needs to be reported so it can be channelled through to the governing body to take action, seek justice and deter others from abusing social media in this way.
"Kick It Out praises this swift action and would urge other players to follow suit in similar situations."
A Sussex Police spokeswoman said the force believed the suspect was from the Wigan area.
She added that threatening comments made on Twitter to another Crawley player on 13 October were also under investigation.
A spokeswoman from Twitter said the company would not comment on individual accounts.