Lewes bonfire behaviour warning from police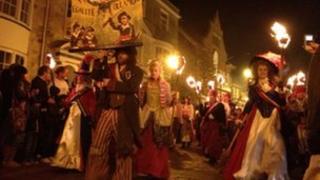 A zero tolerance approach will be taken towards any troublemakers at Bonfire Night celebrations in Lewes, police have warned.
Officers said several people were assaulted at the recent Nevill Juvenile Bonfire Society event in Lewes.
The force said it would not put up with anti-social behaviour that spoilt celebrations for the majority.
Six bonfire societies will hold celebrations and processions in the East Sussex town on 5 November.
Tens of thousands of people attend the event which sees several bonfire societies parade through the town and then join together for the United Grand procession.
Nevill Juvenile Bonfire Society's event is traditionally held a few weeks earlier.
'Enjoyment ruined'
Sgt David Pye, from Sussex Police, said: "Nevill battled on through the rain to put on what should have been an enjoyable community event, but it was spoilt for many by the aggressive and anti-social activities of a minority of people.
"This was the first of a number of Bonfire celebrations in and around Lewes over the next few weeks and nobody should expect their enjoyment to be ruined by becoming a victim of crime."
Last year, a total of 15 people were arrested in Lewes on 5 November mostly for drunken behaviour, possession of drugs and minor assaults.
A woman was also treated in hospital for a serious eye injury after a firework exploded at her feet.
In a statement on its website, Lewes District Council said: "We are advising people to take responsibility for their own safety. We are working with the bonfire societies and other agencies to reduce accidents at Lewes Bonfire.
"Last year there was a particular problem with "rookies" causing serious eye injuries to a number of people.
"We are keen to promote the use of eye protectors (and ear defenders) and discourage the throwing or dropping of fireworks either in the crowds or in the processions."