Brighton celebrates whale hunt ban's 30th anniversary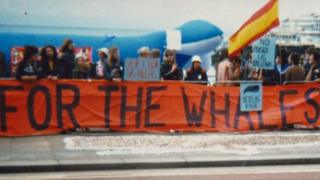 Brighton will host a series of events celebrating 30 years since an international moratorium on whale hunting was signed in the city.
A two-day conference called Whale and Dolphin Watch begins on Thursday in the Hilton Brighton Metropole.
The conference will also see the launch of a new campaign called Save The Whales: Reloaded.
In 1982 the International Whaling Commission met in the same hotel to sign the moratorium.
'Beautiful creatures'
Conference organiser Dylan Walker said despite the vote in 1982 the world's whales are still not safe.
"Whilst whaling is much reduced, these beautiful creatures are losing ground to a whole plethora of destructive issues, including over-fishing and drowning in nets, pollution, habitat destruction and climate change," he said.
"Worldwide a thousand whales and dolphins die every day from man-made threats in our oceans."
The new campaign will be launched on the steps of the hotel on Friday at 16:00 BST.