Rye cinema development 'would sacrifice history'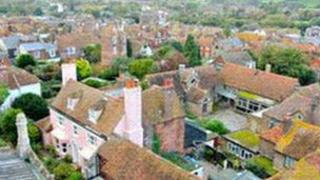 Plans to demolish part of a former school in East Sussex would spoil the character of Rye town centre forever, a heritage group has said.
Community group Fletcher in Rye CIC wants to replace one of three Victorian buildings in Lion Street to develop a cinema and arts and education centre.
But the Victorian Society said the "monstrosity" planned would affect the town's historic appeal.
The developer said the site would go to ruin without a viable revenue stream.
The three Grade II listed buildings at the adult education centre and library were originally a Victorian board school built in 1874.
James Hughes, from the Victorian Society, said: "Not only is this in a conservation area, but it is right in the middle of town. The buildings are essential to Rye's unique appeal as an historic town. This act of destruction will spoil it for all time.
"If this goes ahead, Rye will be sacrificing its history."
But Fletcher in Rye CIC, a group formed of local residents experienced in business, banking and theatre, said without a commercially-viable development the site would go to "rack and ruin".
Creative director Hugh Kermode, 50, said it planned to repair and restore the old library building and art room and knock down a third "link" building badly disfigured in the 1950s.
He said various interested parties and statutory bodies had already agreed with the proposals in principle and the group was meeting planners at Rother District Council with English Heritage on Friday.