St Anne's school site in Lewes to be sold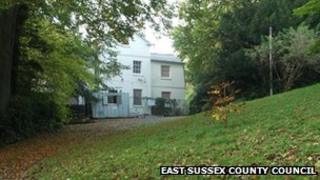 The site of a former East Sussex school which was occupied by protesters for two months in 2011 is to be sold for community use only.
St Anne's in Rotten Row, Lewes is to be sold by East Sussex County Council and cannot be used for housing development.
A group called St Anne's Diggers (Stand) entered the school in May 2011 saying it wanted to prevent the school being sold for housing.
The school was closed by the county council in 2005.
Any new owners of the four-acre site, which includes the former school buildings, must show they can work with the current tenant, voluntary organisation 3VA, the council said.
'Good of community'
Councillor Keith Glazier said: "The buildings aren't fit for purpose and the backlog of repairs would cost in excess of £1m.
"The ongoing maintenance and security of this site costs about £100,000 per year so a sale would remove this ongoing liability."
Eastbourne based 3VA provides support for voluntary and community organisations and was given a one-year rent-free tenancy on the site, which includes management of the grounds.
"We will seek bids that show how the site can continue to be used for the good of the community," said Mr Glazier.