Worthing house fire sees evacuation amid gas fears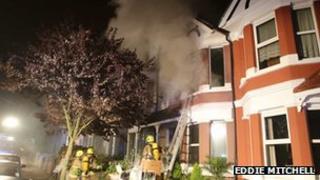 Homes in a West Sussex street have been evacuated overnight after crews dealing with a house fire were unable to isolate the gas supply.
West Sussex Fire and Rescue Service said firefighters were called to a severe fire in a house in Ashdown Road, Worthing, in the early hours.
Crews wearing breathing apparatus searched the house but no-one was in the building.
Gas engineers had to excavate the road to disconnect the gas supply.
West Sussex Fire and Rescue Service received numerous calls to the incident just before 01:00 BST, a fire service spokesman said.
He said the first crews to arrive were confronted with a severe fire on the ground floor and first floor.
Led to safety
Four more fire engines were requested because of the intense heat and difficulty in gaining access and initial reports that people could be trapped in the building.
One woman was led to safety from a neighbouring property, he added.
Fire crews later discovered the fire had affected the gas supply to the building, posing a further hazard, he said.
The cause of the blaze is being investigated by the fire service and Sussex Police.
The Red Cross has been helping people who had to leave their homes.