Hastings footpath rape: Extra police patrols begin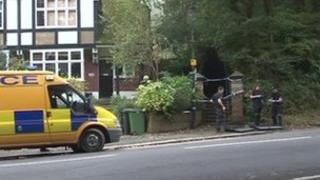 Police have begun extra patrols in Hastings after a 24-year-old woman was raped on a footpath on Sunday evening.
The local victim was tapped on the shoulder and asked directions by a man who then grabbed and raped her on steps leading to Lower Park Road.
Sussex Police said she briefly set off her personal alarm during the struggle sometime between 19:30 and 20:00 BST.
They are appealing for witnesses who may have seen a man acting suspiciously or leaving the scene to come forward.
Stubble
A police spokesman said: "This was a very distressing incident and we are doing all we can to support the woman.
"I would appeal to anyone to come forward if they have information that will assist us in tracing this man.
"Someone may have seen the man acting suspiciously near the footpath or heard the personal alarm. They may have seen the woman talking to him or him leaving the scene."
He said extra patrols were being made in the area to reassure local people, and house-to-house inquiries were continuing.
The man is described as having stubble, dark skin and a medium build. He was wearing light coloured trousers or jeans.