Kalan Fletcher hit-and-run death in Hassocks: Reward offered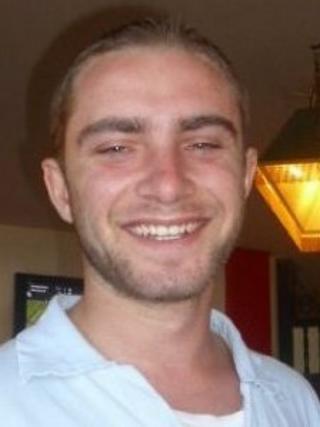 A £5,000 reward has been offered for information leading to the arrest and conviction of a hit-and-run driver who killed a pedestrian in West Sussex.
Kalan Fletcher, 23, was found lying in the A273 London Road in Hassocks in the early hours of 22 October 2011.
Sussex Police believe Imran Shaukat, 27, of Worthing, was driving a van involved in the crash.
Mr Fletcher's mother Stella Hawker said: "Shaukat should do the humane thing and come forward."
She added: "I can understand him being scared and leaving that night but I can't understand why it has taken him so long to come forward.
"It's a torment for my kids. Kalan has gone. He isn't going to turn up at the door and in their eyes there is no closure.
"We need to end this torment. I would appeal to anyone who knows him to call the police as to his whereabouts."
The victim's father Steven Fletcher said: "Kalan's family, friends and I want anyone with information regarding the fatal hit-and-run collision or the whereabouts of the driver, Imran Shaukat, to come forward.
"We believe he might be in the London area and anyone with information leading to his conviction could be rewarded with £5,000. Please, please come forward."
Mr Shaukat, who is a Pakistani national, is thought to have returned home to Worthing following the crash and then travelled to Luton and London a few days later.
Sussex Police thinks he has connections to Luton, Barking and Manchester and first appealed for information about him a few days after the fatal crash.
Sgt Peter Verney said: "I am appealing particularly to the Asian community to assist us in tracing him.
"Mr Shaukat has forged many friendships since he arrived in this country five years ago and I would urge anyone who may know where he is to think of Kalan's family and the torment they are under.
"We are following a number of leads and on the anniversary of his death urge anyone who knows where he might be to get in touch."
A white Ford Transit van involved in the crash was found in Worthing a day after the incident.