Gardeners in Wakehurst Place Great Seed Swap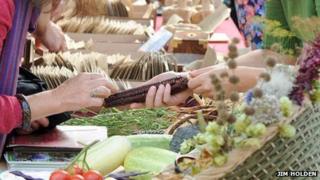 Gardeners hoping to grow different varieties of vegetables and plants have been swapping seeds at the site of the world's largest wild seed collection.
The Great Seed Swap was held at Kew's Millennium Seed Bank at Wakehurst Place, Ardingly, in West Sussex, though its seeds were not actually being used.
Experts were on hand to share their expertise on saving and storing seeds.
Seeds from plants in the botanical gardens were also available for a small donation at the day-long event.
The Great Seed Swap was held for the first time at Wakehurst Place last year.