Sussex church releases 'silence' on CD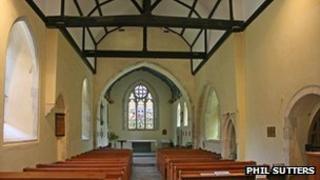 "Silence" has been recorded on to a CD and released by an East Sussex church to raise its profile and generate funds for the building.
Members of St Peter's Church, East Blatchington, have sold their first copies at an open day, and taken orders for more.
The recording of the church's atmosphere includes the ambient sounds of voices, footsteps and occasional background traffic noise.
Church technician Robin Yarnton said: "Mostly people have said it's nice and they like it, and that it's quiet and peaceful.
"It does what it says on the tin. Silence is all you get."
'Played on headphones'
He said he was "quite sceptical" when the idea was first proposed by church member Roger Bing, and he didn't know who would buy the CDs.
But he said the church had the people to do it and a good sound system and the team went ahead and recorded a 30-minute track with a spoken introduction by the Reverend Canon Dr Andrew Mayes, closing words, and 28 minutes of silence.
The church launched the Sound of Silence CD at an open day when the church was filled with the sounds of the organ, the choir, and music playing every half hour - but people who were interested in buying the CD could listen to it on headphones.
Mr Bing said the first CDs sold out and further copies would be made.
John Cage famously recorded silence in his experimental work 4'33", an experiment repeated in the music campaign Cage Against the Machine two years ago, and in 2010 the Royal British Legion also released a silent video called 2 Minute Silence.
And a church in Lewes that also recorded and sold its silence gave Mr Bing the idea of repeating the project in Seaford.
The introduction he wrote for the CD describes what a rare treat silence can be in what has become a busy and noisy world.
He explains that it has tried to capture "a little bit of the silence" of the building's special atmosphere, and invites people to "tune out and tune in".
Mr Bing said: "The point was to have silence but not total silence. You need the occasional background noise such as a footfall or the sound of someone squeaking in a pew."
Mr Yarnton said: "It's an old building, a 12th Century building. You get sounds of footsteps, voices, traffic.
"I don't know if you can ever get silence.
"But you do feel there's something special about this church. So many people have mentioned it. It's a feeling you get."
He described the CD as a meditation aid with a spiritual or faith element, but said people could use it in any way they liked.
Mr Yarnton said the main aim of the project was to raise the profile of the church rather than make money.
He said the church did not put a price on the CD but left it to people to decide what it was worth to them and make a donation.