Bluebell Railway founder Bernard Holden's final journey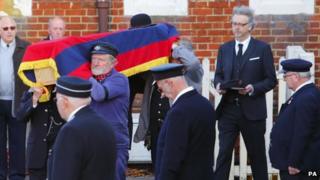 The "founding father" of a heritage steam railway in Sussex has had his coffin taken down the line as a mark of respect ahead of his funeral service.
Bernard Holden's coffin travelled nine miles on a special train from Sheffield Park to Kingscote in East Sussex.
The Bluebell Railway Preservation Society's co-founder and former president died on 4 October, aged 104.
His coffin was topped with his medals, including Burma Star, bowler hat and MBE for services to steam preservation.
Bluebell Railway spokeswoman Avril Gaynor said: "He was always very positive and strong and very willing to help younger people. He was always very energetic and kept us going."
Four uniformed pall-bearers carried Mr Holden's coffin into a brake van as friends and relatives watched from the platform.
His funeral was held at St Margaret's Church in Ditchling, East Sussex, before a private burial.
The society's first meeting, chaired by Mr Holden, was held after British Rail closed the Lewes-East Grinstead route in 1958.
He devoted his life to trains and was a former manager with the Southern and British Railways.
The Bluebell Railway attracts around 170,000 visitors a year with a turnover of more than £3m, several full-time staff and 700 volunteers.
It has three Victorian stations and a collection of locomotives, carriages and wagons.
Mr Holden's dream of seeing the Bluebell line reconnected with the main line at East Grinstead, West Sussex, comes to fruition next year.
Ms Gaynor said: "Our only sadness is that he didn't see us going into East Grinstead."