Gurkha veteran in Maidstone attack 'unaware of five-inch blade'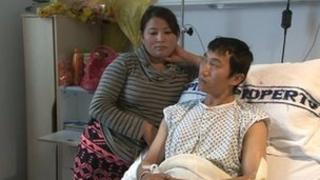 A former Gurkha from Kent who fought off a mugger was unaware the attacker's knife had snapped, leaving the five inch blade embedded in his left arm.
Taitex Phlamachha, 38, was with his wife when he was attacked after withdrawing money from a cash machine in Maidstone on 7 October.
He managed to overcome his attacker and hold on until police arrived.
The black belt in karate and taekwondo only realised he had been stabbed when police used a metal detector on him.
A 39-year-old man from Maidstone has been charged with assault.
Metal detector
Mr Phlamachha, who served with Maidstone's 36 Engineers for 12 years, said his self-defence training undoubtedly saved his life.
"The knife was coming towards my chest. I just blocked that knife with my right hand but unfortunately couldn't manage to save my left arm," he recalled.
"I saw the knife was broken somewhere but didn't realise it was inside my arm.
"Then I noticed he [the attacker] was holding the handle of the knife which I took control of and threw away."
He also managed to throw his mobile phone to his wife Asha so she could call 999.
Mr Phlamachha, who runs a grocery shop, said he only realised the blade of the knife was embedded in his arm when a police officer used a metal detector on his body.
"I am really lucky to survive," he said.