Brighton park The Level closes for restoration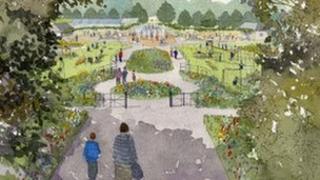 A park in Brighton's city centre is to close to the public for more than nine months while a £2.3m lottery grant restoration project is under way.
The Level, between Ditchling Road and Lewes Road, will have new fountains, a skatepark, a sensory garden, tables for board games and ping pong and a cafe.
The 8.5 acre park, opened in 1822, was given in trust to the community.
A games and sports day was held on Saturday before the park closes on Monday until July.
New landscaping and planting will be carried out as part of the project, which will also see restoration of the pavilions and improvements in lighting and CCTV.
Designer Sarah Arnett and landscape architect Tom Hardiment have been commissioned by Brighton and Hove City Council to create an art installation for the park.