Brighton Speed Trials crash footage sought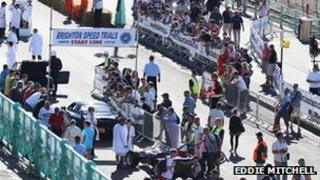 Witnesses who filmed a speed trials event in Sussex in which a competitor died have been urged to contact police.
Charlotte Tagg, 38, from Beck Row, Suffolk, was a passenger in the sidecar of a Honda Asco which hit a wall during the Brighton Speed Trials last month.
The 63-year-old motorcyclist from London suffered serious injuries and remains in hospital.
Sgt Huw Watts said the circumstances were still being investigated.
He said there were thousands of people watching the event at about 18:15 BST on Saturday 8 September and some had been in contact with information about what they saw.
"We are still keen to hear from anyone else who witnessed the bike as it crossed the finish line and collided with the wall," he said.
The Brighton Speed Trials are held every year on the beachfront in Madeira Drive, organised by the Brighton and Hove Motor Club.