Lorry ban in Midhurst town centre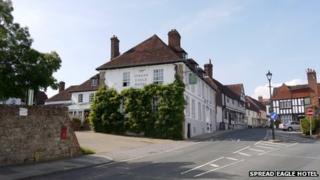 Large lorries are to be banned from a West Sussex town centre after residents complained of damage to historic buildings.
Vehicles more than 6ft 6in wide will be banned from Midhurst town centre, West Sussex County Council said.
The 15th Century Spread Eagle Hotel has needed a number of costly repairs, said its manager Ted James.
A council spokesman said satellite navigation systems were directing lorries down "inappropriate roads".
Mr James said: "The large lorries are coming along a road that is well over 550 years old.
"It is literally inches beside the sides of a high-sided vehicle. They can't quite negotiate the corners either."
The manager of the hotel, built in the 1430s, added: "Lorries have got bigger and bigger and the roads have remained the same size since the 1920s."
"Corners of the building, as well as Sussex House and the Swan pub, have been damaged by lorries," Mr James said.
Sat nav 'unhelpful'
A West Sussex County Council spokesman said: "A traffic regulation order to restrict vehicles which exceed 6ft 6in in width from the town centre has been agreed and will be introduced shortly.
The new scheme will also apply to country roads in the surrounding area, he said.
"The problem of lorries hitting buildings has existed for some years in Midhurst, made worse by satellite navigation systems unhelpfully directing lorries down inappropriate roads."
Vehicles making deliveries to the area will still be allowed in the centre of Midhurst.
A spokeswoman for Midhust Town Council said: "People are just blindly following their sat nav and this is causing the most problems."
The traffic regulation order was passed in November 2011 but delays installing illuminated signs meant it had not been implemented, the council said.
The spokesman said the council expected all the signs to be in place by 19 October when the ban will come into force.